Brighton SEO has been a massive year in 2019 with speakers John Mueller, Darren Shaw and Fili Wiese.
Unfortunately, being thousands of miles away, I couldn't go, like many of you guys!
But, thanks to Authoritas, it's possible to watch the leading SEO conference of 2019 right here.
In this post, I gathered the links to the presentations of this year's BrightonSEO conference so you can enjoy from the comfort of your office!
BrightonSEO Podcasts
All presentations are converted into podcasts for your enjoyment. 2019's are not out yet but make sure to keep a close watch. See BrightonSEO Podcasts.
Part 1 of Brighton SEO Online Video
Part 2 of Brighton SEO Online Video
Izzy Smith
Driving Meaningful Clicks with Enriched SERPs
SEO Manager at Sixt
Starting: 3:00
Emily Potter
Featured Snippets: The Achievable SERP Feature?
Consultant at Distilled
Starting: 24:43
Kenichi Suzuki
A Structured Data Case Study: How to Make Your Websites Stand Out in Search
Faber Company Inc
Starting: 42:10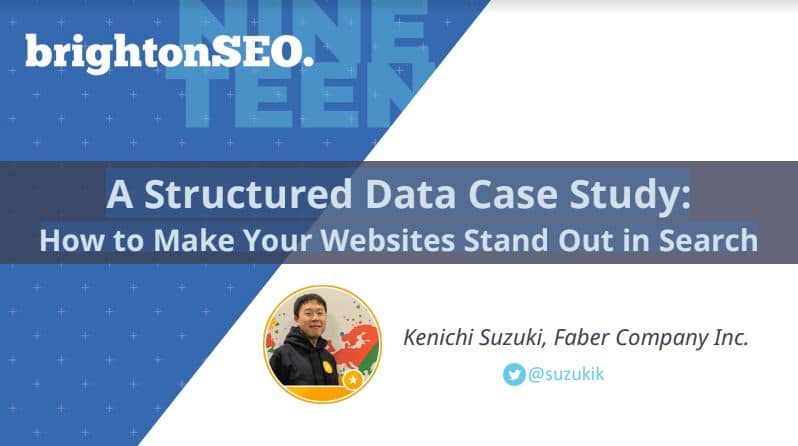 See Kenichi Slides
Fili Wiese
Why I Adore Sitemaps, An Ex-Google Engineer's Love Story
Search Brothers
Starting: 1:34:54
Razvan Gavrilas
Building an SEO Exponential Growth Model By Closing Your Content Gaps
Founder of CognitiveSEO & BrandMentions
Starting: 1:54:00
Q&A With Fili Wiese
Search Brothers
Starting: 00:00
Fili Wiese talk about Google penalties and how to resolve them. Is Google holding a grudge? No!
If you can't prove it, you can't penalize

Fili Wiese
Paola Didonè
Competitor Analysis: A Structured Method
SEO Analyst at Distilled
Starting: 12:14
Lana Burgess
Killer competitor content research and strategy
lanaburgess.com
Starting: 29:53
Alexandre Sigoigne
Build your new e-commerce content strategy based on SERP and competitive analysis
CEO & Co-founder at myposeo
Starting: 47:09
Q&A With Paola Didonè
SEO Analyst at Distilled
Starting: 1:26:27
Paola Didonè talk about PPC, organic Growth and the massive barrier to entry on Amazon.
PPC could be easy if you throw money at it… A lot of money!

Paola Didonè
Marcus Tober
Huge SEO Success Stories And What You Can Learn From Them
Chief Innovation Officer at Searchmetrics
Starting: 1:53:09
To download the SearchMetrics BrightonSEO 2019's presentation just fill-in the form on Searchmetrics.com.
Alexandre Sigoigne
Drive Big Site SEO Impact In Google's Linkless Algorithm
Director at QueryClick
Starting: 2:16:54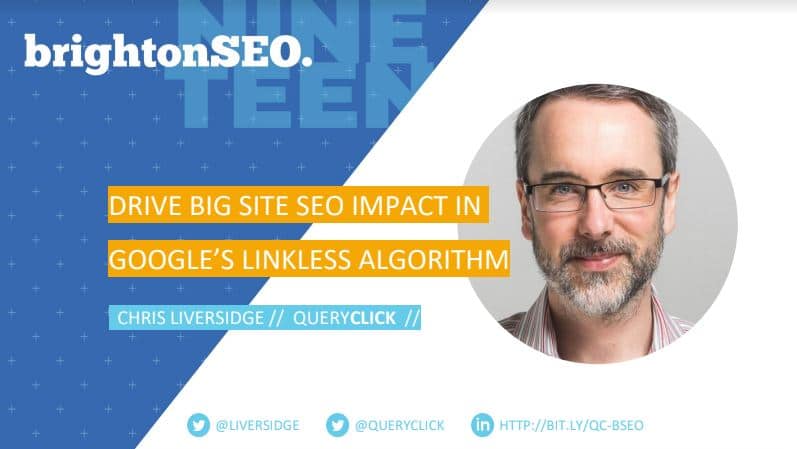 Patrick Reinhart
Forget Alexa, The Voice Search Devices Of The Future
VP, Digital Strategies at Conductor
Starting: 2:37:45
Q&A With Patrick Reinhart
VP, Digital Strategies at Conductor
Starting: 3:02:38
Patrick Reinhart talks about his own story and how he ended up in SEO and the future of Alexa.
SEO Expert, Speaker, & Kindness Enthusiast

Patrick Reinhart
Claire Carlile
10 Do's and 5 Don'ts for Small Biz Local SEO Success
Claire Carlile Marketing
Olga Andrienko
Uncovering SERPs: What happens in Search Right Now and how to benefit from it.
Head Of Global Marketing at SEMrush
Mauro Cattaneo
Why Hrefland is Crucial to International SEO Success
SEO Performance Manager at Webcertain
Steff Preyer
Voice Visibility: Tracking Voice. Results on Google & Alexa
Business Director at Rabbit & Pork
Briony Gunson
Workplace efficiency: mindset mastery and meditation
Operations Director at Pole Star Digital | Meditation Teacher with BeandDo
Alex Judd
How To Manage Your Online Reputation
GCore Business Director at Grayling
Adam Gent
The State of Pagination & Infinite Scroll
SEO Product Manager at DeepCrawl
Anders Riise Koch
Simple Ways to Visualize Your Crawl Data With No Coding Knowledge Required
SEO Director at DataWords
Tom Pool
Chrome Puppeteer, Fake Googlebot & Monitor Your Site!
Technical SEO Manager at Blue Array Ltd
Laura Hogan
Retaining Clients & Winning Back Their Trust
Owner at Milo's Mail
George Karapalidis
Why data science analysis is better than yours!
Data Scientist at Vertical Leap
Oliver Brett
How To Make Fake News for Links
SEO Manager at Screaming Frog
That's it! If there are any BrightonSEO 2019 presentations that I haven't added yet. Please send me an email with a link to the presentation.